Hello, I've always loved mastiff-type dogs, but recently I heard about this breed called the Blue Paul Terrier, which is now extinct unfortunately. Here are the MD and Wikipedia articles:
http://molosserdogs.com/m/articles/view/2238-scottish-blue-paul-bullterrier
https://en.wikipedia.org/wiki/Blue_Paul_Terrier
They seem to have been bred with Staffies at some point, and may also have been forebears of American Pit Bulls and American Staffies, all of which can have the 'blue' coloring of the Blue Paul. Anyway there was a breeding program to recreate the Old English Bulldog, crossing Bulldogs, Bullmastiffs, American Bulldogs etc, I wondered if something similar could be done for the Blue Paul? There are breeders who specialise in the blue American Staffordshires and Pitbulls, but they are not interested, or at least didn't respond to my emails. The breed wouldn't take much to become established, and I would guess it would be a popular breed if it was healthy and good natured, which is extremely likely given the good temperament of Staffies, American staffies and even pitbulls if trained right. I would imagine crosses between blue Staffordshire Bull Terriers, blue American Staffordshire Bull Terriers, blue pitbulls and perhaps the Thai Ridgeback which has been suggested as a forebear of the breed would create the breed standard. Pitbulls are (stupidly) outlawed in the UK so if they were to be marketed here they couldn't have pitbull ancestry. The size at around 45lb seems to have been bigger than modern day staffies, smaller than pitbulls, the size of smaller Americans staffies.
Blue Paul Terrier: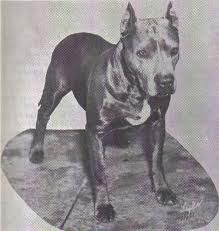 Blue Pitbull: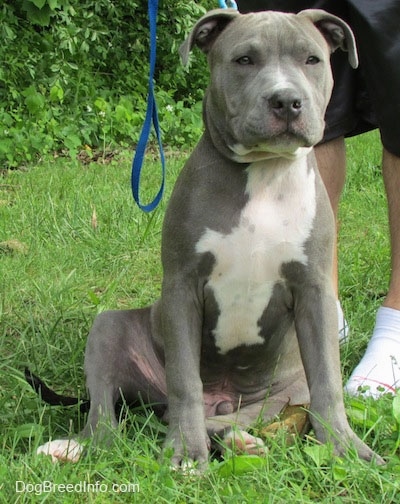 Blue Staffy:
Blue AmStaff: