Let's face it, not very many breeders or Neo' owners elect to do so. They make this choice for various reasons, which is solely up to them. If they bought and feed the dog, it is their dog or program. I am not here to judge them, I also do not force my clients to work their dogs. I breed towards a balanced animal that Can perform but will also do well in a active home environment, when trained properly. My preference and selection is geared towards a higher energy dog due to the activities I train for.
Why I choose to work my dogs? Because working with them forms a unshakeable bond between the dog and I. Training them properly to bite doesn't make them dangerous. It makes them safer, because the dog looks to me prior to responding. Working a dog makes a partnership, the dog proves its worth by performance. It also allows me to see it's faults and weaknesses. Which all dogs have, be it in mind or body there is no perfect animal. I personally want to know each dogs strength and weaknesses, as it allows me to create the next step in my program without having to guess and hope.
Personal protection is what I focus on training wise, but it is not the only or end all be all to train your dog within. Not every home or person has the time needed to dedicate to this type of training. To train a dog to bite is something to not take lightly and one must understand that to do so, you must take every precaution to ensure you have a safe animal around people and in public space. This form of training should never be ego driven, or done at home without a dedicated trainer. With that being said, Neapolitan Mastiffs can compete in many types of sports, to name a few dock diving, weight pull, nose work, barn hunt, tracking and agility can all be done with a Neo' too. I find that Neo's truly want to have a job, they thrive when they understand what is expected of them. If you are looking to work your Neo' but unsure where to start, please don't hesitate to message me. No matter if your dog is Mayhem bred or from another, I am always willing to help!
Currently we house Mayhem's Chemical Warfare, Mayhem's ChupaCabra, Mayhem's Bimbo, Mayhem's Ippopotoma, Amadas Tou Dorikou, Mastino Templar's Britannia, Badzar and whatever visiting dog I'm working with currently. Our kennel resides in Michigan U.S.A. We offer show dogs who are tested in working standards, if you offer a working home please let me know in your inquiry. Our dogs are raised indoors with children and are properly socialized with other animals and humans. My dogs are part of our family, they go on trips, to work with me and any other errand that I can bring a dog to. They all sleep indoors and not only worked, but are family companions.
My dogs are out of show stock with champion bloodlines, selected towards my taste for the classic farm dog. Mastino Templar's Britannia has been worked in personal protection, was fully health tested prior to breeding and now is enjoying retirement. Mayhem's Chemical Warfare (aka Bosco) has been competing in multiple venues and is showing a lot of promise. Bosco has been training in personal protection since a year old and is doing very well, quick to react, great bite and drive. He also has been competing in nose work trials and only needs one more leg for his novice title. Mayhem's ChupaCabra is a wild thing. She loves to play ball as well as tug. She is very loyal and wants to please me over any other dog I have owned. She has been worked in personal protection and shows great promise,.
We strive towards creating a healthy long-lived "Neo" without losing the Gargoyle look that this breed carries. By working, testing and evaluating each dog we are creating better dogs for the future!
Mastini Mayhem recently expanded, moved out into the country and bought a farm! We are really enjoying the new place and the dogs love having all the room to run and roam. Everyday we walk the acreage and the dogs run up and down the trails.
Please check back soon for more pictures and updates as our kennel grows. You may also visit our website at http://mastinimayhem.com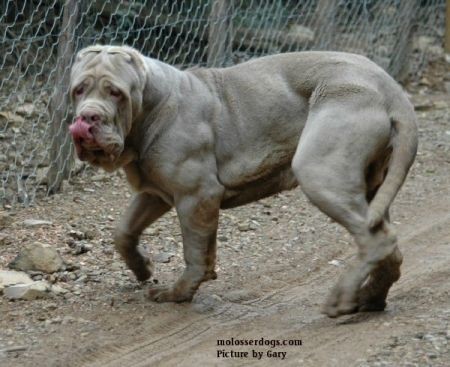 I was just browsing for photos today and saw this photo - which led to a video.  It peaked my interest because the original photo was take by me at a #Alleri Kennel in Italy. The dog in the photo is/was Finalmente - one of the most athletic #Neapolitan #Mastiff - bred by Virgilio Dal Buono.
This is a screenshot of the "fake site video" https://viralchop.com/giant-dogs-of-the-world-part-1/amp/
And here is the original photo - taken by Gary Sicard.. lol.. so fake.
#top_display_media" target="_blank" rel="noopener">http://sicard.net/gallery/displayimage.php?album=42&pid=7612#top_display_media
And now you know the rest of the story.. :)
Call out the fakes.