Flat-Coated Retriever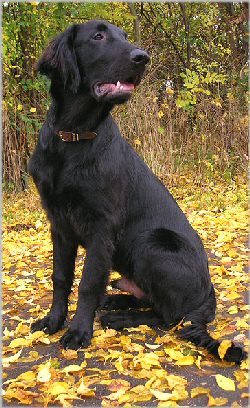 This old English water dog was developed in the 1800's from various pointers, setters, collies, spaniels and early types of Newfoundlands and St.John's Water Dogs. Originally referred to as the Wavy-Coated Retriever, it was a valued gundog in Britain and America. In the last decade of the 19th century, hunters introduced a "mystery" straight-coated breed into its bloodline, creating a phenomenal new bird dog and water retriever which was immensely succesful up until the 1st World War, when breeds like the Labrador Retriever and the Golden Retriever became overwhelmingly more popular. After WW2, the Flat-Coated Retrievers were nearing extinction, but the breed was saved through dedicated revival efforts and is today found in sufficient numbers worldwide.
The Flat-Coated Retriever is a well-manered house pet, but once on the outside it becomes very alert and active. This is a broad-chested and muscular breed, elegantly built and very powerful. Energetic, intelligent and playful, it responds well to obedience training and is a tough and agile working dog.
The coat is dense, flat and smooth, always uniform black or brown in colour. Average height is around 24 inches.