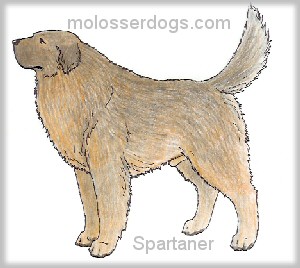 The Spartan Sheepdog is thought to be a result of crossing the Greek Epirian shepherds with Laconian and Persian dogs, but there are other theories as well. The information regarding this breed is scarce and it isn't even clear if any pure Spartan Sheepdogs are still in existance. Sometimes listed as a herder and livestock protector, other times as a hunting dog and bloodhound, it's not entirely certain whether there was a single Spartan breed or more. Descriptions of the breed known as the Spartan Hound do not match these sheepdogs even remotely.
The Spartan Sheepdog was even exhibited once at the Islington Dog show in London, but for some reason under the name of Albanian Wolfhound, creating even more controversy. Described as vicious and territorial, it is best suited for rural life.
While some say it should be a pure white dog, most Spartaners are wolf-coloured. The average height is around 27 inches.