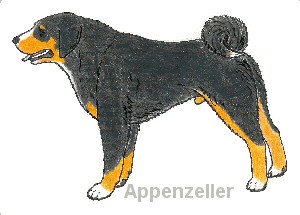 Developed in the Swiss town of Appenzell, this working Molosser is a versatile farm dog, traditionaly used for everything from pulling carts and herding livestock to guarding property and even hunting. Saved from extinction alongside other Swiss breeds in the early years of the 20th century, the Appenzeller Sennenhund has roots in the same stock of dogs brought by the Romans 2000 years ago to Switzerland, although some fanciers claim it existed on its own even longer.
Smaller than the Bernese and Greater Swiss Mountain Dogs, but not as small as the Entelbucher, this lovely breed is suited for companion life and is fairly easy to train. One of its distinguishing physical characteristics is its tightly curled tail, suggesting some spitz strains in its bloodline.
The alert Appenzell Cattledog is very well-muscled and has a short, but dense coat. The colour is always black-and-tan with white markings. Average height is around 22 inches.