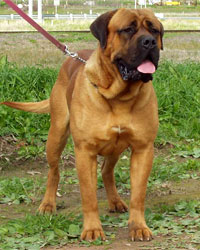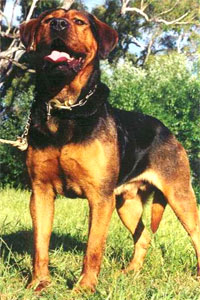 Rare, unrecognized and relatively unknown outside of its homeland, the Australian Mastiff was originally created 30 years ago, but the refinement of the breed continued well into the 21st century. This giant guard dog was created by crossing English Mastiffs with Great Danes, Bullmastiffs, Rottweilers, Collies, Rhodesian Ridgebacks, Central Asian Ovcharkas and French Mastiffs. Developed for protection of farms, businesses and family, the Australian Mastiff is said to possess a sharp, yet stable temperament, strong territorial instincts and great intelligence. Apart from large size and excellent guarding ability, the Australian Mastiff is also bred to be athletic, healthy and trainable.
The breed is very similar to the old variety of English Mastiffs first introduced to Australia, but allows for a range of appearances within a recognizable type, with some dogs being lighter overall. This large dog is muscular and well-boned, with a broad head, strong muzzle, a powerful neck, wide chest and sturdy legs.
The coat is short, thick and smooth, most commonly seen in yellow, wheaten and fawn shades, but red, brindle, black and black-n-tan dogs exist as well. Average height is around 32 inches.