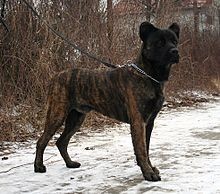 This rare working breed was developed in the Azores from various European breeds and local dogs, as well as the legendary Fila da Terceira. Existing in various forms between the 1400's and 1800's, the Cao de Fila de Sao Miguel was finally standardized in 1984 and recognized in recent times, thanks to the efforts of dedicated Portugese breeders. It is slowly gaining acceptance outside its homeland.
The rugged and resilient Azores Cow Dog is a versatile worker, commonly employed to handle a great number of duties, from herding livestock to protecting property, but due to its somewhat aggressive nature, it requires experienced handling and early socialization. This is an athletic and energetic breed, making an excellent Agility contestant. Highly intelligent and intuitive, the St.Miguel Dog can make a loving companion.
The short coat is quite dense and always comes brindled over various shades of reddish brown to grey, with some white markings allowed. Average height is around 21 inches.